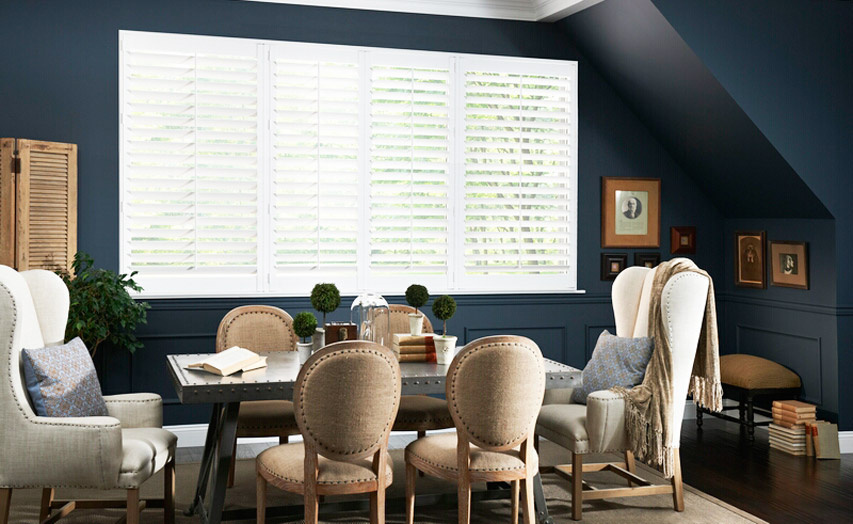 Why Choose Shutters ?
Plantation Shutters
Plantation shutters are unit a solid frame structure which will be mounted on windows.As a result of their building components promote longevity, they're considered permanent fixtures within the home. Shutters are the only window covering that add value to your home. think about them as VirginiaShutters does: furniture for your windows! Thanks to the widespread appeal of Plantation Shutters, they usually stay with the house once it's sold. Therefore, the cost of Plantation Shutters will be financed into the price of your home.
Plantation Shutters don't seem to be the only type of shutters. Plantation Shutters typically refer to shutters with larger panels and wider louvers (or slats) that cover the whole window. Traditional Shutters, that have declined in popularity, usually only cover the bottom portion of a window and have smaller panels and narrower louvers. The Plantation Shutter allows householders way more flexibility in controlling the amount of light, air and noise they prefer entering their windows than the traditional shutter.

• Build your shutters to your precise preferences by choosing from our many options.
• Our product are custom crafted, and custom manufactured to the exact size of your windows.
• Virginia Shutters offers a wide variety of hinge colors.
• Hidden tilt rods available in all louvre sizes
Versatility
Shutters are both decorative and functional. Shutters blend beautifully as an architectural feature of your home, while allowing for light control and privacy. Shutters compliment all decors – from traditional to contemporary.
Value
Shutters are a permanent addition to your home that will increase your home's value and appeal from both inside and outside of you home.
Craftsmanship
Each shutter panel is designed for optimal appearance, function and fit. We professionally build and install our shutters to your precise specifications.
Shutter Options
Our products are custom crafted. Build your shutters to your exact preferences by selecting from our many options.
Louver Size
Choose from the traditional 2 1/2", popular 3 1/2" or more open 4 1/2" louvers
Shutter Colors
Custom color match to any color or chose from 30+ standard colors.
If none of our standard colors are good match, we can custom color match your shutters to any color you'd like.
The most accurate matches start with paint that was used to paint your trim. If you still have this, we'll first take a fresh paint sample. Then, 1-2 weeks after you have placed your order, you will receive a color strike of the paint color in the mail.
To ensure a good match, you'll want to check this color strike against the trim everywhere where your shutters will be placed throughout your house. Be sure to let us know as soon as you receive the sample – custom color matching is one of the most common reason shutter production is delayed.
Panel Width
Either 1 wide or 2 narrower panels can cover most windows.